As the UK CBD market continues to blossom, there are now more ways than ever to consume all the natural, well-being benefits that CBD rich cannabis products have to offer. But which is right for you? Here we discuss the various types of CBD products and ways to take CBD that are currently available.
CBD Oils
The first and most common are CBD oils. These are made of either a CBD rich hemp extract or isolated CBD, mixed with a carrier oil of some kind and usually dispensed using a dropper.  
CBD isolate based CBD oils contain only CBD and none of the other beneficial cannabis compounds found in broad spectrum extracts. Broad spectrum extracts are generally considered to produce a superior and more effective CBD product than there isolated CBD counterparts.
Various types of oils are used as CBD carrier oils. Olive oil is a great choice as CBD is fat soluble, meaning that it absorbs into the bloodstream better with a fat of some kind and olive oil is a healthy and nutritious example. Other oils, such as MCT oil and Hemp seed oil can also be used. MCT has a milder flavour, and are also thought to have a greater bio-availability, allowing more of the CBD and cannabis compounds to be absorbed into your body. 
CBD oils are taken sublingually, meaning that you hold them under tongue for a few moments, as this allows the CBD to absorb into your bloodstream most effectively. CBD Sprays are a great alternative option with added convenience and potentially improved absorption due to better dispersion in the mouth.
Capsules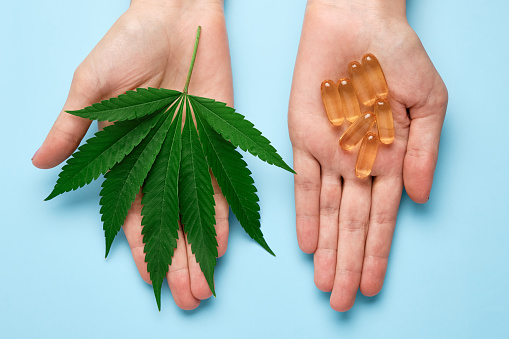 Capsules are another very common type of CBD product. These are great for getting precisely measured doses every time, at a greater convenience and without the taste. As it has to go through the digestive system first, it can take longer for your system to absorb. However, anecdotally, CBD capsules are often described as providing a slower release which results in the effect potentially lasting longer and might be a good choice at night time.
The capsule shell itself can come in many different sizes and forms, from soft gel to hard shell, and can be made from various substances, most commonly glycerine or from vegetable cellulose (vegan alternative). Most soft gel caps contain no carrier and therefore produce less bio availability than products like Love CBD's Entourage capsules which contains coconut oil.
Vapes and E-liquids
CBD vape products provide a faster acting type of product, since you are inhaling the CBD directly into your system. However, the downside is that the effect also does not last as long as an ingested oil or capsule type product. CBD vape products come in a variety of different flavours and formulas and some CBD vape products contain terpenes. Terpenes are the smell or scent produced by plants in this case strains of the cannabis plant. Since Cannabis Sativa L or Hemp, is the only legally permissible variety of cannabis that can be extracted to produce CBD, terpenes may be added to mimic other strains of cannabis and as a result produce different effects. For instance, the terpene profile of Indica strains of cannabis may be mimicked for a more relaxing mellow experience.
Edibles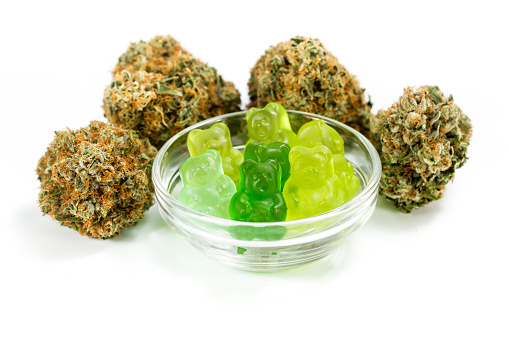 Edibles, in particular gummies are gaining popularity as another alternative method to take CBD. There are many varieties of flavours and textures to choose from, giving you a great tasting way to intake a precise amount of CBD. As with capsules, the disadvantage is that they take longer to take effect as they have to be digested. There are also concerns that this type of CBD product might appeal to children despite the over 18 age restriction. 
Topical and Cosmetics
Whilst the discussed methods have a more holistic effect for the whole of the body and mind, there are times when you may want to use CBD for a certain area. This is where balms come in. These are applied topically to you skin, and often have a soothing and moisturising effect, making them great for use in massages for instance. Topical CBD products are also proving popular with athletes who are reporting that CBD products when applied this way can help to speed up recovery.
CBD is being more widely used within cosmetics an example of this is bath bombs. There are question marks as to whether the CBD component delivers any benefits and is merely a gimmicky product jumping on the CBD bandwagon and trying capitalise on the popularity of CBD. 
Tea and Drinks
There are also various drinks that contain CBD too. Rather than offering a measured and precise dose or a certain amount of mg of CBD, such products are merely an infusion of CBD, but are still a great way to introduce CBD into your diet. Tea products are different in that they contain ground hemp rather than extracts of hemp. Teas often contain additional ingredients as the taste of hemp is not the most pleasant and is well disguised with additional ingredients like Ginger and Peppermint.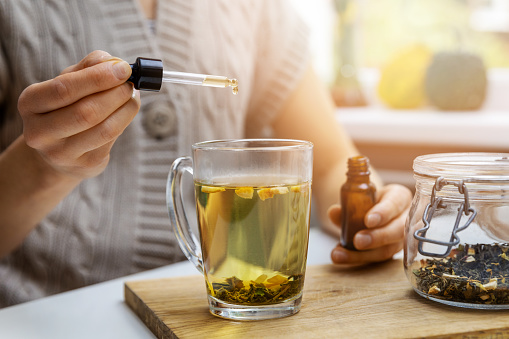 Regardless of which method you choose, to get the most out of CBD, it is important to take CBD as part of a daily routinely. Everyone is different, so whilst some people may feel an instant effect when first starting to use CBD products, others will require more time to feel the full effect and benefits. Because it may be a slow process, it is often reported that CBD users only realised that they were getting results when they stopped taking CBD. 
It is also important when starting to use CBD for the first time or making any increases in dosage or strength to do so gradually, to allow your body to adapt. Big increase scan be countervailing, imparting a negative effect rather than a positive one. It is always best to go low and slow and the process is often described as waking up your endocannabinoid system.